As my colleague Kareem Fahim reports from Egypt, at least nine people were killed over the last 24 hours during clashes between supporters and opponents of the deposed Islamist president, Mohamed Morsi, in central Cairo, around Cairo University in Giza and north of the city in the Nile Delta.
The violence began in downtown Cairo, near Tahrir Square, on Monday and soon erupted in other parts of the capital. Video posted online by the independent Egyptian newspaper Al-Masry Al-Youm showed fighting between Morsi supporters and residents of the island neighborhood of Manial, where there has been a pro-Morsi sit-in by the Muslim Brotherhood since shortly before the military deposed him three weeks ago.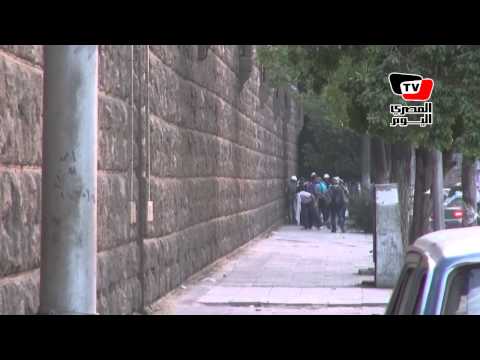 The fiercest fighting on Monday appeared to have been centered in the area of Giza near Cairo University, on the west bank of the Nile, across the river from downtown and Tahrir Square. An activist blogger named Tarek Nasr, who said he was on the ninth floor of a building near Cairo University, described what he saw and heard overnight in a series of Twitter updates.
Giza is a war zone
I have never heard so much gun fire in my life. Tear gas everywhere.
People running frantically, all kinds of bullets, a black smoke all over giza. many lives will be lost
Heavy gunfire still in Giza as protestors chant "Allahu Akbar" & others frantically run in streets calling for anyone to call an ambulance
I can hear simultaneously people praying fajr, gun shots & ambulance sirens. Unreal.
Mr. Nasr also shared a brief audio clip of gunfire recorded from his apartment.
Cliff Cheney, an American photojournalist based in Cairo, wrote on Twitter that he saw at least 15 burned-out cars near the pro-Morsi sit-in on Monday night. He said that parts of the neighborhood around the university were a tense "no man's land."
Saw maybe 15 burned out cars on Cairo Univ Road. MB sit-in people thought it was 20. We had to run from thugs before I could get full count.
So 15 to 20 cars burned. People from sit-in wouldn't exit their perimeter with us due to danger. #Nahda to Radwan AlTayeb is a no-man's land
Video posted on YouTube by the newspaper El Watan appeared to show some of what Mr. Nasr and Mr. Cheney had reported near Cairo University.
El Watan's report, headlined "Gunfire Exchanged Between the Brotherhood and Security Forces at Cairo University," showed civilians shooting off fireworks, a form of improvised weapon popular in street battles, and police officers firing tear gas from armored vehicles. Shirtless young men involved in the street battle appeared to be cooperating with the security forces, and at one point an unidentified civilian bleeding from his lower back said that the Islamists had "opened fire on us."
In a second El Watan video report uploaded to YouTube on Tuesday, a group of more than half a dozen men identified as "eyewitnesses" to the violence in Giza said that members of the Brotherhood had opened fire with pellets and live ammunition. Several of the men accused supporters of Mr. Morsi of shooting from a high floor of a nearby mosque.