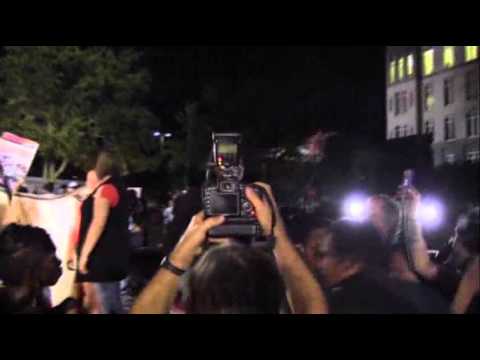 As my colleague, Michael Schwirtz reports, the acquittal of George Zimmerman in the shooting death of Trayvon Martin prompted an impassioned debate on Sunday about race and the judicial system, amid calls for more protests to be held across the country.
On Twitter alone, more than a million posts about the verdict went up in the 12 hours after it was announced Saturday night. Mr. Zimmerman's supporters expressed relief, while others responded with a mix of outrage and frustration.
Both Tracy Martin and Sybrina Fulton, the parents of Mr. Martin, posted on Twitter after the verdict was read.
Even though I am broken hearted my faith is unshattered I WILL ALWAYS LOVE MY BABY TRAY
God blessed Me & Sybrina with Tray and even in his death I know my baby proud of the FIGHT we along with all of you put up for him GOD BLESS
Lord during my darkest hour I lean on you. You are all that I have. At the end of the day, GOD is still in (cont) http://t.co/enQjZ3bZk2
Mr. Zimmerman's brother, Robert Zimmerman Jr., also used Twitter to deliver a message on behalf of his father.
Message from Dad: "Our whole family is relieved". Today… I'm proud to be an American. God Bless America! Thank you for your prayers!
On Sunday, he posted a link on his Twitter account to a statement he gave Breitbart News, expressing disappointment to the reaction of the verdict. In it, he specifically cited the Rev. Al Sharpton Jr.'s comments on MSNBC, calling the jury's decision an "atrocity."
"The hallmark of our judicial system is a trial by jury of your peers," he said. "People called for George's arrest and called for him to have his day in court, and both of those things have come to pass. The hallmark of our society is the rule of law. It should go without saying that respecting the rule of law and the outcome, this verdict, is our duty."
The jury accepted the defense's argument that Mr. Zimmerman, a neighborhood watch leader, had acted in self-defense when he shot and killed Mr. Martin, who was unarmed and walking through a residential neighborhood in Sanford, Fla.
Bernice A. King, the daughter of the Rev. Dr. Martin Luther King Jr., expressed her thoughts about the case in a Twitter message to Benjamin Crump, a lawyer who has been representing Mr. Martin's family.
@attorneycrump This is a defining moment for the state of my father's dream #mlkdream50#equaljustice
On the Be a King Facebook page, Ms. King called for nonviolence protests "to honor the dignity of Trayvon Martin's life and not add further tragedy to what his family and the people of Sanford have already experienced."
It's '63 once again. NOT GUILTY. Just like those who got off for the bombing of the 16th Street church in Birmingham back in '63. I'm stunned and disappointed. It's a sad day in the history of American jurisprudence that our justice system continues to fall short of the truth, especially when a person can be going about their daily business and ultimately be killed because of a false assumption. In the words of a friend, "Any law that justifies the actions of Zimmerman is an unjust law." In the words of my father, "We've got some difficult days ahead." Let us seek God for his guidance during this time. God is a God of justice, mercy and grace. All protests against the verdict must demonstrate an irrevocable commitment to nonviolence, to honor the dignity of Trayvon Martin's life and not add further tragedy to what his family and the people of Sanford have already experienced. Now is the time to create a culture of nonviolence.
And while race relations was banned from discussion in the courtroom during the trial, it dominated the discussion online, as well as in churches and on the Sunday morning talk shows.
Race matters, lets not run & hide! Acknowledge, address & find solutions, but color blind, post racial & justice for all is a mirage!
Dozens of musicians, sports figures and celebrities also weighed in with their reactions to the verdict.
George Zimmerman not guilty can u believe that. Wow
This is not "only" about race. This is about laws that allow racist acts to go unpunished. We must change laws that promote injustice
IN MEMORY OF TRAYVON MARTIN!!! REST IN PEACE YOUNG KING!!! ANY DEATH OF A KID IS A TRAGEDY!! WAKE UP!! http://t.co/mm1fAC2HPz
We have to somehow turn this anger & pain into peaceful productivity.
Our voices have to be heard & we have to do the work!!!
Both online and offline, amid calls for a peaceful response, people began organizing protests to be held across the country on Sunday, with the Occupy Wall Street movement posting a map and locations of planned demonstrations.
Map of #NoJustice for #TrayvonMartin actions happening across the country: http://t.co/0OPUXFmOOO
Collectively we pray for the #TrayvonMartin family and we ask for calm as we work towards #JusticeForTrayvon. http://t.co/iaTmvOTnIF