In the last hours of the brief, tightly controlled presidential election campaign in Iran, the first since the disputed outcome in 2009, the name of the detained opposition leader who claimed to have won the last contest, Mir Hussein Moussavi, was once again chanted at public rallies.
As the blogger Arash Karami noted on Twitter, the chant "Oh, Hussein, Mir Hussein!" echoed in a brief video clip said to have been recorded during an opposition rally on Wednesday in the city of Kerman.
After 2 years of house arrest & hardly any news, chants for Mousavi in small city of Kerman. cc: @khamenei_ir
https://t.co/9oJLXVxmdV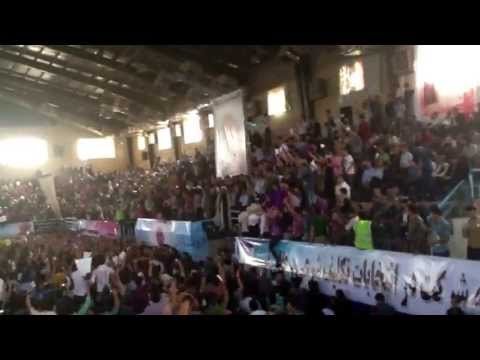 Arash Azizzada, a producer for Voice of America's Persian News Network in Washington, drew attention to the same chant in another clip, said to have been recorded in Mashhad, a northeastern city where there was a large rally for the only reformist candidate on the ballot this year, Hassan Rowhani.
Pro-Mousavi chants in Mashhad, #Iran from yesterday. Sent in to @VOAIran http://t.co/oPx1PKEaEY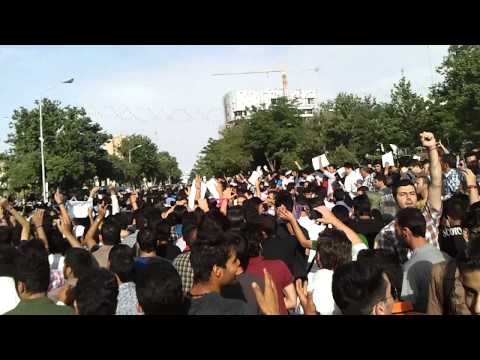 Here's one of the video sent in to us, a pro-Rouhani rally in Mashhad, #Iran http://t.co/X6kIOJyF6l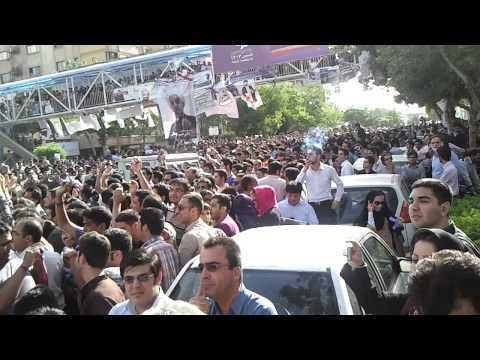 Huge crowds take to streets of holy city of #Mashhad to welcome #Rouhani on Wednesday http://t.co/RL7oy7NSaP
In another clip Mr. Karami drew attention to on Thursday, the crowd at a Rowhani campaign rally this week in the western city of Urmia cheered loudly when the names of the former presidents Ali Akbar Hashemi Rafsanjani and Mohammad Khatami were mentioned â€" both men have recently endorsed Mr. Rowhani â€" and then broke into chants in honor of Mr. Moussavi, who remains under house arrest in Tehran.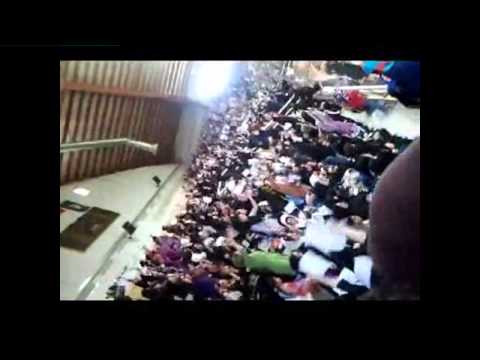 As campaigning ceased at 8 a.m. on Thursday morning ahead of Friday's election, Mr. Rowhani's supporters claimed to detect a late surge in support and shared photographs and video of rallies in Tehran and other cities that seemed to evoke some of the enthusiasm that swept the nation in the last days of the 2009 race.
#Rouhani support extends beyond major cities like Tehran,Mashhad,Shiraz,Tabriz. Video of rally in #Sari last night https://t.co/UMLgjlnIFh
Along with Mehdi Karroubi, another reformist who ran for president in 2009 and also contested the result, Mr. Moussavi has been held under house arrest for more than two years. Citing sources close to the families of both men, Reuters reported this week that they currently live "an intensely lonely existence with virtually no contact with the outside world and all their activities controlled by security forces."
Despite having been charged with no crime, Mr. Moussavi, 71, and his wife, Zahra Rahnavard, 67, are prisoners in their own home near central Tehran's Pasteur Street. "Two of the doors are welded shut and authorities keep constant watch over the third door," the unnamed sources close to their daughters told Reuters. "Cameras were installed all around the house, as well as floodlights and surveillance devices. All door handles inside have been removed so doors will not fully close, denying the couple privacy."
Mr. Karroubi, 75, has been moved to a safe house in Tehran. According to his son, the former speaker of Iran's Parliament is now confined to one floor of a three-story home under the control of the country's intelligence ministry.