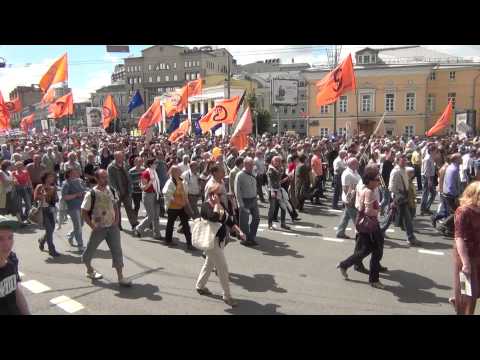 As the Kremlin continued its campaign "to show as many people as possible that Russia is a normal country," by winning the right to host yet another international event, thousands of distinctly off-message protesters marched through Moscow on Wednesday, calling for the release of political prisoners, and a "Russia Without Putin."
Away from the noisy streets of the capital, Russia unveiled its bid to host the 2020 World Expo in the city of Yekaterinburg with a personal appeal recorded by the nation's president, Vladimir Putin.
Speaking in English, Mr. Putin assured delegates of the International Exhibitions Bureau that Russia would make the event "a priority national project," and offered to pay all expenses for 90 developing nations, enabling them "to freely participate in the Expo, completely free of charge."
Mr. Putin has had success with similar pitches in the past, helping to sway the delegates who awarded Russia the 2014 Winter Olympics, the 2016 Ice Hockey World Championship and the 2018 World Cup.
Yekaterinburg, sometimes transliterated Ekaterinburg, was known during the Soviet era as Sverdlovsk, for the Bolshevik revolutionary who commanded the 1918 assassination in the city of Czar Nicholas II and his family.
Video posted online by Novaya Gazeta, the newspaper that once published reports by Anna Politkovskaya â€" a fierce critic of Mr. Putin's rule, who was murdered in 2006, on the Russian president's birthday â€" showed that the protesters also chanted "Putin's a Thief!" during the march.