Supporters of the Syrian government posted a graphic video to YouTube on Sunday that appeared to show a rebel commander cutting out the heart and liver of a government soldier and threatening members of the country's Alawite religious minority. He then held the organs up to his mouth and appeared to take a bite.
The video is one of several posted online in recent months that appear to show people being killed or dead bodies being mutilated, although the perpetrators shown in these videos are typically members of pro-government paramilitary groups called the shabiha. It is less common to see videos of such graphic violence committed by rebels, and this was the first that appeared to show cannibalism.
No previous video showing grisly violence has gone viral in the same way as the video posted on Sunday, which has been viewed more than 560,000 times between its Arabic and English versions.
In the video, a man identified as Abu Sakkar stands over the corpse of what appears to be a government soldier lying in a ditch. He carries a knife in his hand and saws into the corpse's chest, while someone off-camera says, "God bless you, Abu Sakkar, you look like you are drawing a heart of love on him." Abu Sakkar then cuts out the dead man's internal organs, which Human Rights Watch, an advocacy group based in New York, said appeared to be his heart and liver.
Abu Sakkar holds the organs up to his face and threatens both President Bashar al-Assad and the Alawites, who have been among Mr. Assad's most steadfast supporters. He also refers to Baba Amr, a neighborhood in Homs that became an icon of the Syrian conflict after a siege and bombardment by the government in February 2012 that lasted for weeks, driving away rebel fighters and leaving the area in ruins.
"I swear to God, soldiers of Bashar, you dogs â€" we will eat your heart and livers!" Abu Sakkar says. "God is great! Oh, my heroes of Baba Amr, you slaughter the Alawites and take their hearts out to eat them!" He looks at the organs and holds them closer to his mouth, as if to take a bite. The video then ends abruptly.
In a statement issued on Monday, Human Rights Watch described the mutilation depicted in the video as an atrocity and said that the man who apparently committed it was a leader of the Independent Omar al-Farouq Brigade. Human Rights Watch accused that brigade of participating in the "indiscriminate shelling" of two Shiite villages in Lebanon, al-Qasr and Hawsh al-Sayyed, in April, but said it was not clear if the group operated as part of the Free Syrian Army.
By comparing frames of the mutilation video to other videos showing what appears to be the same man participating in the shelling that indiscriminately hit Lebanese Shi'a villages and talking about killed Hezbollah fighters, Human Rights Watch believes the person in the video to be Commander Abu Sakkar. Journalists and other commanders have said that Abu Sakkar is the nom de guerre of a former commander from the mainstream al-Farouq Brigade from the Baba Amr district of Homs, in Syria.

Four international journalists told Human Rights Watch that they met him during or after the battle of Homs in 2011 and 2012. Several other videos posted by the Independent Omar al Farouq Brigade also show the man known as Abu Sakkar, wearing the same jacket as in the mutilation video, loading rockets into an improvised rocket launcher before apparently firing them into Lebanon at Shi'a villages in the Bekaa Valley. In yet another video, Abu Sakkar appears with what he claims are the bodies of killed Hezbollah fighters in the town of al-Qusayr.
So, who is Abu Sakkar?
On Monday, Time magazine reported that two of its correspondents had seen the video in April "in the presence of several of Abu Sakkar's fighters and supporters, including his brother," and that "they all said the video was authentic." Time said it had tried to verify that the video was authentic but had been unable to do so.
In its report, Time identified Abu Sakkar as the nom de guerre of a man named Khalid al-Hamad and said, as Human Rights Watch did, that he was a commander in the Independent Omar al-Farouq Brigade, a group of around 60 men active in Homs.
Whether or not Abu Sakkar is actually named Khalid al-Hamad, it appears likely that this was not his first time in front of a camera. A man who appears to be the same person shown in Sunday's video can also be seen in at least three videos taken near Homs in the second week of April. On Monday, Eliot Higgins, who blogs under the name Brown Moses, posted all three videos on his Web site.
There is a strong physical resemblance between the man in these three videos and the man who carved the organs out of the corpse â€" he wears the same jacket in all four videos â€" and the speaking voice sounds the same in all of the videos.
In one video, posted on April 8, the man who appears to be Abu Sakkar stands in the middle of a group of men in the back of a pickup truck, preparing missiles to be fired at government positions near Abel, a village outside Homs. He wears a silver vest over a blue shirt and speaks to the camera, saying his brigade is "striking the shabiha and Assad's army in the village of Abel."

.nytVideo, .nytVideo video, .youtubeVideo, .youtubeVideo iframe { background: none repeat scroll 0 0 #000000; } .youtubeVideo { position: relative; } .youtubeVideo, .youtubeVideo .thumb { height: 0; padding-bottom: 56.25%; } .youtubeVideo iframe { height: 100%; left: 0; position: absolute; top: 0; width: 100%; z-index: 1; } .youtubeVideo .playButton { border-radius: 10px 10px 10px 10px; height: 46px; left: 50%; margin: -23px 0 0 -35px; position: absolute; top: 50%; width: 70px; z-index: 2; background-image: -webkit-linear-gradient(90deg, #6e0610, #ff0000); /* Safari 5.1+, Mobile Safari, Chrome 10+ */ background-image: -moz-linear-gradient(90deg, #6e0610, #ff0000); /* Firefox 3.6+ */ background-image: -ms-linear-gradient(90deg, #6e0610, #ff0000); /* IE 10+ */ background-image: -o-linear-gradient(90deg, #6e0610, #ff0000); /* Opera 11.10+ */ } .youtubeVideo .thumb { overflow: hidden; width: 100%; } .youtubeVideo .thumb img { height: auto; width: 100%; } .youtubeVideo:hover .thumb { cursor: pointer; } .youtubeVideo:hover .playButton { } .youtubeVideo .playButton .arrow { border-bottom: 10px solid transparent; border-left: 20px solid #FFFFFF; border-top: 10px solid transparent; height: 0; left: 28px; position: absolute; top: 13px; width: 0; } .clearfix:after { clear: both; content: "."; display: block; height: 0; visibility: hidden; }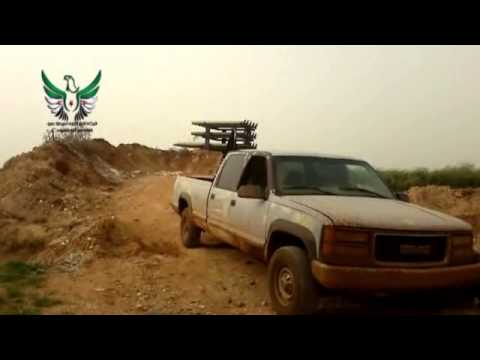 In a second video posted the next day, April 9, the same man is shown preparing to launch missiles from the back of a pickup truck. It appears to be the same vehicle. He looks at the camera and says, "Don't step down, Bashar. We are coming for you," before launching the missiles. "I swear to God, the sons of Baba Amr are coming for you."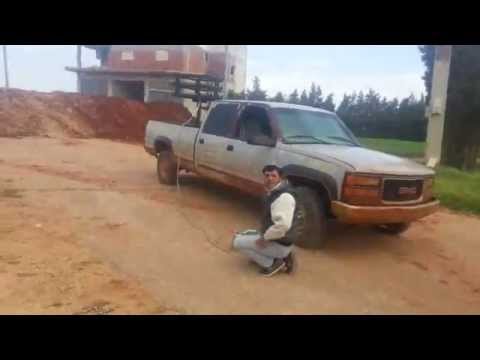 In a third video posted two days later, April 11, the same man is again seen loading missiles to be launched from the back of a pickup truck. Speaking to the camera, he again threatens Mr. Assad, telling him that "the sons of Baba Amr" are coming for him "from everywhere."